Family Fun

Youth Chairs
are designed for young children who have grown beyond the need for a high chair but still require a certain boost in height for eating meals or participating in playtime like arts & crafts. When you purchase a Youth Chair it creates an opportunity to help make your loved one feel special. He or she will be delighted that you gave them their "big boy" or "big girl" chair.
Since several varieties of our Youth Chairs come unfinished (without a polyurethane, stain or paint) many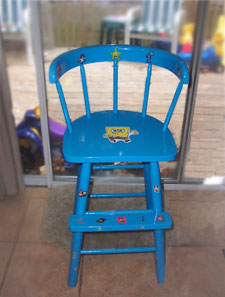 customers choose to customize the chair for a one-of-a-kind end result. This "blank canvas" approach allows for personalization as well as unleashing creativity. Decorating a Youth Chair with your child (or grandchild, godchild, nephew, niece etc.) is not only fun, but it can get the child away from the T.V. and involved with a hands on process. It is through such experiences that fond family memories are created. Imagine a bonding time that instills creativity, imagination, and fun for all that they will be able to enjoy everyday when it is done!
Below we have included some suggestions for creating a personalized chair. It's a budget friendly way to make something just for the little ones in your life. Best of all they can participate by helping decide on colors and other decorative elements.
Make a Sticker Chair!
This innovative idea comes from, Matt, a Youth Chair customer who wanted to make his nephew Tommy a "Sponge Bob Square Pants" Chair.
Step One:
Lightly buff with finishing sandpaper. Remove excess dust with a soft cloth.
Step Two:
Select your choice of wood paint (available at craft or hardware stores). For Tommy's chair Matt went with "the color blue seen on Sponge Bob items" and a "Sponge Bob yellow." First, Matt painted blue all over and let dry.
Step Three:
Once the paint has dried, its time to add stickers. Matt said, "We bought Sponge Bob Square Pants stickers, let Tommy pick his favorites and select where he wanted them to go on his new chair." YouthChairStore.com suggests using super glue to apply the stickers to make sure they stay adhered. Regarding the use of super glue Matt says the stickers, "really have to stick down good because when you seal over them and they tend to curl up with just the normal sticker adhesive."
Step Four:
As the super glue was drying Matt used the "Sponge Bob yellow" paint to inscribe Tommy's name on the back of the chair.
Step Five:
Once the stickers and yellow paint are fully dried Matt applied a clear water-based Polyurethane* coat on the chair. He said, "We put about 10 coats on; we really wanted to seal in the stickers so no little fingers started picking at them. You may be temped to put on thick coats in the beginning because the first couple of coats don't seem to do much, but they build up quick after that and thick coats just end up sloppy."
*One benefit of water-based Polyurethane is that it is nearly odorless. Therefore, it can be used indoors (while still maintaining proper ventilation). If a small spill occurs, it cleans up well with water and has no tinting effect like oil-based Polyurethane which leaves a yellow hue.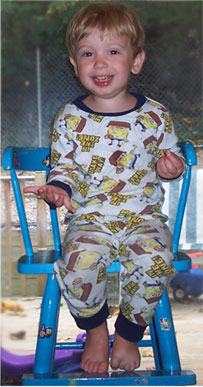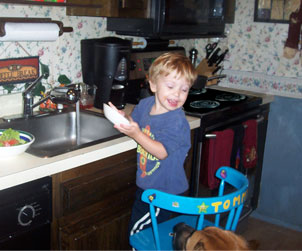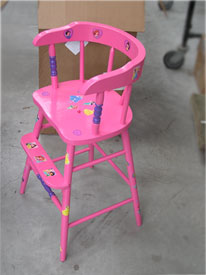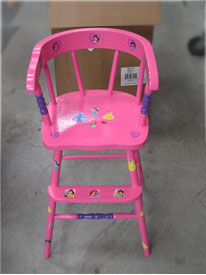 Princess Sticker Chair!

Youth Chairs are equally created for boys and girls. Little Tommy's Sponge Bob stickered Youth Chair above was really cute, but Emily's princess themed Youth Chair to the left is equally dynamic. This princess version is proof that a plain Youth Chair can truly transform into a one-of-a-kind customized piece. Imagine a young girl's excitement when she sees this piece of furniture that was created just for her! The colors on this princess Youth Chair are really bold and cute. But unlike flimsy plastic, its real wood base makes it sturdier. What better way to encourage "princess like" table manners than with a princess Youth Chair? Grab a Youth Chair today and make your own!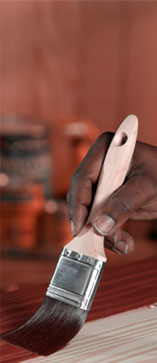 Stain a Youth Chair

Staining wood is a time honored wood working craft. As a more traditional option (in place of paint) you can either purchase a pre-stained Youth Chair directly from YouthChair.com or you can purchase an unfinished chair to stain on your own.

Many customers stain a Youth Chair to help match existing furniture such as a family dining table. In some instances the stain will match so precisely that guests will believe it came with the set! This is especially helpful when antique furniture is involved - the chean lines of a Youth Chair and an endless variety of stains on the market allow the hand stained Youth Chair to blend with nearly any style of furniture.

Step One: Bring pictures or wood panels of existing furniture to the store so that you can find the stain color to match.

Step Two: Lightly buff with finishing sandpaper. Remove excess dust with a soft cloth.

Step Three: Find a well ventilated area out doors to begin your staining process.

Step Four: Let the Youth Chair dry between applying coats. Depending on the stain you use, it may dry lighter or darker than anticipated.

Between painting and staining the potential is unlimited. However, if you are on a time crunch it will please you to know that many of our chairs are available pre-stained. Feel free to browse our collection of Youth Chairs and view all your unfinished and finished options.